- Sharing Faith, Showing Love, Having Fun -
MOUNTAIN KIDS DAY CAMP
MOUNTAIN KIDS DAY CAMP 2022 SCHEDULED FOR JUNE 20-24, 2022 - SAVE THE DATE!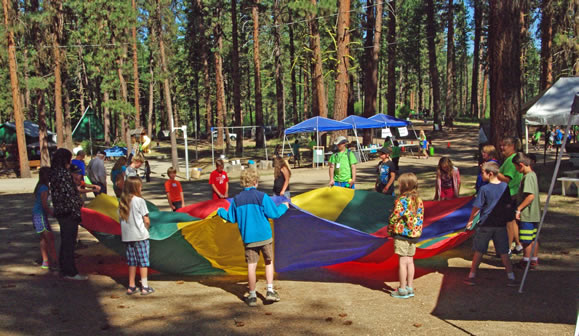 PURPOSE:
To engage kids ages 6 – 11 in activities which build self-esteem, encourage team work, and provide positive role models. Kids will be offered the opportunity to learn more about God and His love for them.
PROGRAM DESCRIPTION
Mountain Kids Day Camp is a week long day camp held in June each year which welcomes Idaho City area kids of all religions to participate. Held at the Camp Ivydale facilities in Idaho City, children come each morning with a sack lunch and spend their day in age appropriate activities such as crafts, singing, swimming, hiking, and learning about God. What makes camp unique is the high counselor to camper ratio. For every one or two children, there is a counselor trained to provide each child with individual attention and lots of loving support throughout the week.
View our Isaiah Foundation brochure for more details.
Hello,
I'm sure you understand that because of the Covid-19 restrictions, we don't know yet if we'll be able to hold Mountain Kids Day Camp or not. We hope we can, and plan to do so, until and if we find out we can't.
We are still counting on having many campers and will need lots of volunteers - hope you'll plan to join us!
We appreciate your support and prayers,
The MKDC Leadership Team
Jennifer Alban, Sandy Messer, Marilyn Eklund, Mindi Grant, Jill Moughamian
UPCOMING EVENTS
Camp Date: June 20-24, 2022
Tentative Training Dates for 2022:
Teen Training: Saturday, May 14, 10 am - 3 pm
All Volunteer Training: Saturday, June 4, 10 am - 2 pm
2021 APPLICATIONS
Returning Volunteer Application
Junior Counselor Information Sheet
HOW YOU CAN HELP
Sponsor a kid for a week of camp ($200)
Volunteer to provide snacks for campers and/or counselors
Help with fundraising
Volunteer your time to help at camp